AeroPress Go Travel Coffee Maker
The AeroPress Go is a portable version of the world famous AeroPress coffee maker. Durable, light, and fits inside its own 15 oz travel mug for delicious coffee anywhere.
Makes smoother and richer coffee, espresso, or cold brew in about a minute. Using a breakthrough patented technology that allows for a shorter brew time, the AeroPress Go leaves no bitterness and less acidity than other brewing methods. The paper filter ensures there is no grit in your brewed cup.
Brews 1-3 cups with one pressing. Press and mug are top rack dishwasher safe. The coffee press, mug, and accessories are made of food-safe polypropylene that is free of BPA and phthalates. Includes AeroPress Go coffee maker, 15 oz travel mug, lid, scoop, filter holder, and 350 paper filters.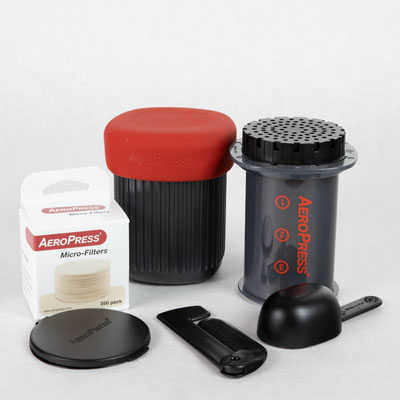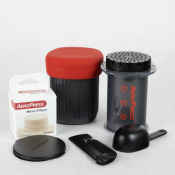 AeroPress Go Travel Coffee Maker