AeroPress Original Coffee Maker
The AeroPress is ideal for any coffee lover looking for a rich and smooth cup of coffee without acidity or bitterness. Brews coffee, espresso, and cold brew in about a minute and clean up takes only a few seconds. Perfect for home kitchen use and is lightweight, compact, and durable making it also ideal for camping and traveling.
Using a breakthrough patented technology for a rapid brewing time, the AeroPress leaves no bitterness and less acidity than other brewing methods while the paper filter ensures there is no grit in your brewed cup.
Brews 1-3 cups with one pressing. Top rack dishwasher safe. The coffee press and accessories are made of food-safe polypropylene that is free of BPA and phthalates. Includes AeroPress coffee maker, scoop, stirrer, filter holder, filter cap, and 350 paper filters.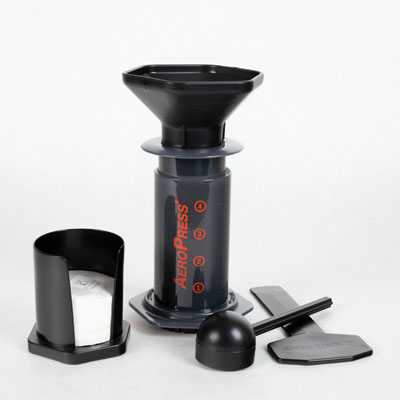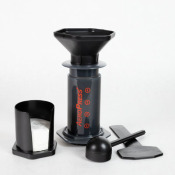 AeroPress Original Coffee Maker